Nick Willett U.S.A Artist available for tours ,gigs,weekenders
This atrtist is only available in the uk & Europe through myself .
please feel free to listen to nick just click the link below or watch him below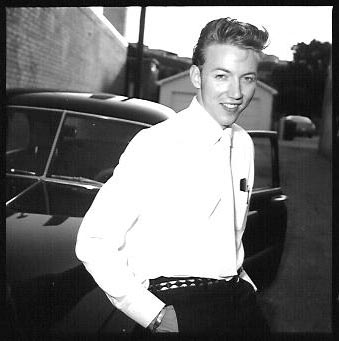 Click Below To Hear Nick Sing
A Little Mixed Up - Nick Willett
EDDIE CLENDENING
brings with him over a decade of stage experience. He has played alongside Elvis alumni Scotty Moore, D.J. Fontana and James Burton, not to mention rock 'n' roll greats like Pat Cupp, Hayden Thompson, Billy Lee Riley, Jimmy Lee Fautheree, Wanda Jacks...
on, Jerry Lee Lewis, Eddie Bond, Little Richard, Dale Hawkins, Joe Clay, and scores of others. Eddie has toured as a featured guitarist/vocalist in several nationally known combos. His band, Eddie Clendening & The Blue Ribbon Boys, have been in demand all across the United States, Europe and Asia. With several musical releases under his belt and a brand new full length album just released, he is proud to be a part of the Million Dollar Quartet family
. Check out his music at:eddieclendening.blogspot.com/
CLICK BELOW FOR EDDIES MUSIC VIDEOS
Click Below To See Nick Perform
The Rhythm Bombers
A great Rockabilly band from wales with lots of energy

The Rhythm Bombers were formed from the ashes of Skulls 'n' Daggers in December 2013 when drummer Ritchie Stix Newell (ex The Devastators), Colin C Sea Green the bassist from The Cheaterslicks and guitarist Tiny Phillips (ex Ted Crook and the Blues Highway) hooked up with vocalist and guitar player, Dai Bop DeVille of The DeVille Rebels.
Lewis Chamberlain and the convertors
A Fabulous 5 piece rock n roll band with energy and a great piano sound jerry lee lewis ,influenced